So sometimes I hold Jonah and wonder how in the world I can love a little person this much. It really takes me by surprise.
Saturday we had a mommy and Jonah afternoon. We start with the usual family breakfast at the French Laundry. Jonah ordered a blueberry pancake and massacred it. Blueberry was everywhere. He ended up flipping it over and picking the blueberries out. When I pulled him out of the highchair people were laughing because his butt was covered in blueberry. Needless to say that outfit is not going to be passed down to his siblings, but he had fun. Next time we will ask not to sit at the table smack dab in the middle of the restaurant...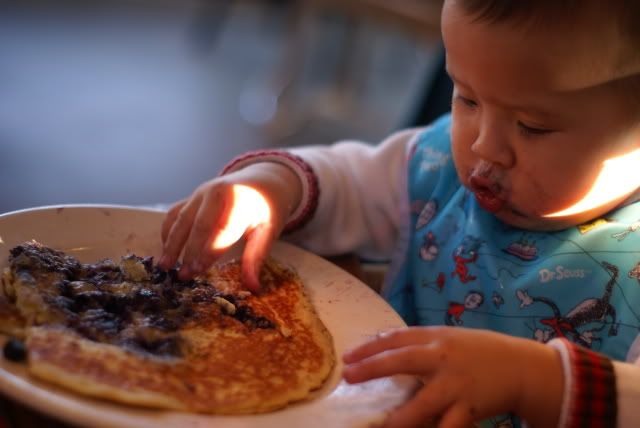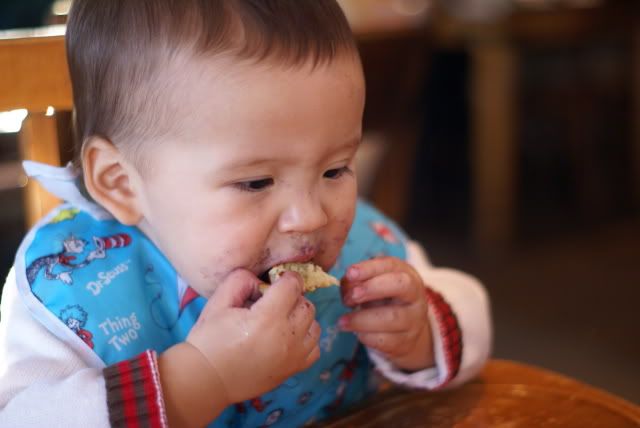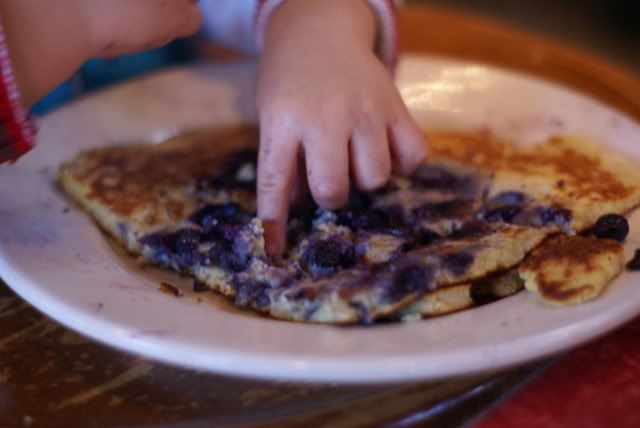 After breakfast we went home (changed our clothes) and played outside.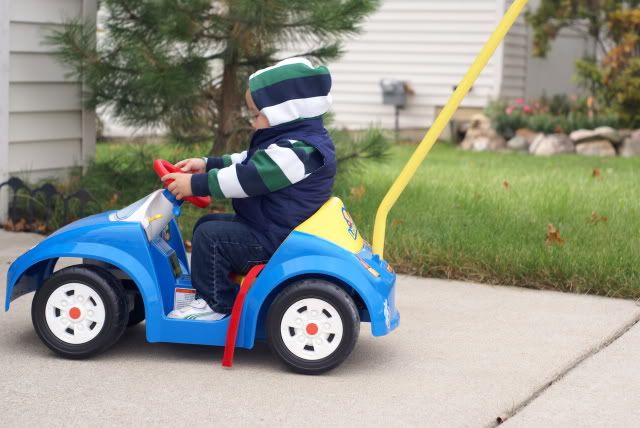 He likes to push it as much as he does drive it.
After our nap we headed out Great Lakes Crossing. Mommy left the camera in the car, silly mommy. We had to exchange things are Carters. We had lunch at the Rain Forest Cafe. We made a car at
RideMakerz
. It's like build-a-bear, but with cars. Way cooler and surprisingly relatively inexpensive. A very fun afternoon for mommy and her boy.
While mommy and Jonah were playing daddy was helping Great Grandpa move down to Indiana. Since Great grandpa is moving to a smaller place we have been blessed with a dining room hutch (will post pics later), kitchen table, and a drop leaf table. Our previous kitchen table was smaller and is now... Jonah's table! Yes, Daddy is handy with a miter saw...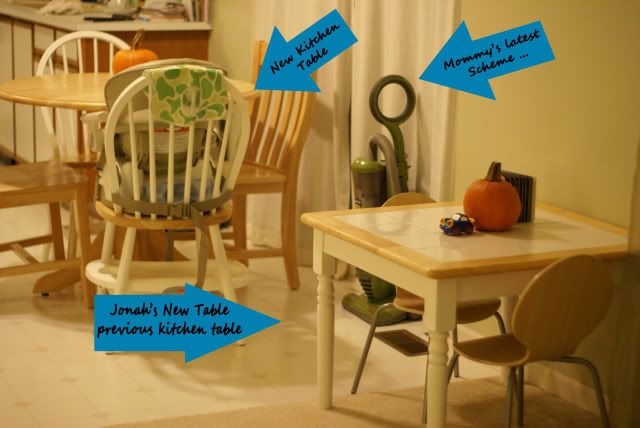 We found the chairs half of at Target!
As for Mommy's latest scheme...The vacuum part for the floor is broken, but the hose works fine. I hate sweeping so now I simply vacuum up his food mess with the vacuum hose. OK, so maybe its a little trashy to keep my non-working vacuum out but it gets the job done AND keeps the kitchen area neater. I'm a busy girl. Tonight at bookclub my nextdoor neighbor told me her son said the other day that he didn't think anyone lived here because we are so rarely home. Out of the mouths of babes.
Plan - Next year finish yard and fence in backyard for Jonah. Be Home More.
Speaking of bookclub, next months book is Twilight and I'm very excited to read it. Ok its time for bed. g'night.